For a recent presentation to students, I was asked to talk about agriculture in Washington's life. After his birth on his father's Popes Creek plantation, the agricultural life was Washington's usual environment from his earliest days—the tobacco crops, the kitchen gardens and medicinal plants, the hedgerows, shade trees, and decorative plants surrounded him. His interest in them grew because his family made their living by raising and selling crops.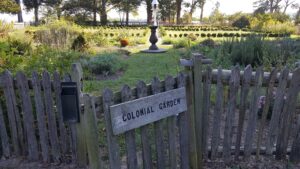 Washington also took a keen interest in animal husbandry. He bred and sold horses, and experimented with dog breeding to develop the Virginia Foxhound.
Mount Vernon's more than 8,000 acres required a lot of management, and Washington had obligations beyond the plantation. He was a member of the House of Burgesses, and part of the Virginia militia. In 1766 he hired his distant cousin, Lund Washington—a young man in an unsettled condition—to learn farming and help manage the estate.
Washington knew tobacco depleted the soil, so he switched to growing wheat, and tried a variety of crop rotation practices to keep the farm productive.
When the American Revolution began, Lund Washington took on most of the responsibilities for management of Mount Vernon. The two of them kept up regular correspondence throughout the war—a time when the estate was losing money and virtually bankrupt. Many of their letters can be found on the National Archives website section called Founders Online.
In 1776 Washington sent Lund instructions for replacing some trees on the estate. His letter asked for: "all the clever kind of Trees (especially flowering ones) that can be got, such as Crab apple, Poplar, Dogwood, Sasafras, Lawrel, Willow (especially yellow & Weeping Willow, twigs of which may be got from Philadelphia) and many others which I do not recollect at present—these to be interspersed here and there with ever greens such as Holly, Pine, and Cedar, also Ivy—to these may be added the Wild flowering Shrubs of the larger kind, such as the fringe Tree…"
In other letters, Washington instructed Lund to propagate some of their own trees to plant around the estate. He also discussed reclaiming swampy land to create pastures, and selling parcels of land when cash was short.
Lund didn't care much for keeping details records—information Washington was eager to have while he was away from home. In his letters, he questioned Lund about the crops, and the animals. How many colts this year? How many lambs? Sometimes horses were sold to provide cash.
After the war, Washington returned to Mount Vernon, eager to restore the estate's productivity. Lund and his wife moved to another property of their own. When the presidency took Washington away again, he hired his nephew, Howell Lewis, to manage the estate.
Through a long stream of written correspondence, Howell provided reports on the oats, wheat, corn, and barley, the horses, sheep, pigs, and dogs. But these proved much less satisfying to Washington than seeing them for himself.
When he left the presidency, Washington was deeply gratified to return to the farming life he loved. He is quoted as saying, in 1797, "Agriculture is the most healthy, the most useful, and the most noble employment of man."