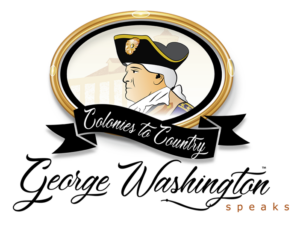 GEORGE WASHINGTON SPEAKS BLOG ARTICLES
OUR ARTICLES ARE CURRENT SO CHECK BACK AND KEEP UP ON OUR EVENTS AND NEWEST VIDEOS.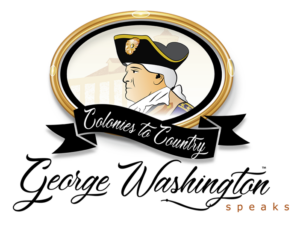 GEORGE WASHINGTON SPEAKS BLOG ARTICLES
OUR ARTICLES ARE CURRENT SO CHECK BACK AND KEEP UP ON OUR EVENTS AND NEWEST VIDEOS.
Paul Revere is best known for his "midnight ride" the night of April 18, 1775, to warn colonists in Lexington and Concord that an armed force was marching their way. Our next set of videos will deal with the opening volleys of the Revolutionary War that took place the following morning.

In 1861, approximately 85 years after that event, and many years after Revere died, Henry Wadsworth Longfellow published a poem titled "Paul Revere's Ride" which generations of Americans read, and many memorized. Longfellow used some poetic license in telling the tale, but you can read it here.
Revere was a silversmith and engraver, and an active member of the Sons of Liberty, a group devoted to freeing the colonies from British control. His house still stands today,
and is a popular tourist attraction along Boston's Freedom Trail.
On two occasions prior to April 18, Revere rode out of Boston with news for the rebels. First, he rode to Concord, where military supplies were stockpiled by the colonists, to warn of British activity in Boston. As British troop movement in Boston raised concerns, Revere rode to the outlying towns with another warning, and on his way back arranged for the signal lights from the Old North Church in Boston. "One if by land, and two if by sea" as Longfellow wrote, would let colonists know which route the British troops were taking to get to Concord and capture the military supplies.
Finally, on April 18, troops began to move out of Boston, and patriot leader Dr. Joseph Warren sent Revere out again to warn the colonists of their approach.
But Revere wasn't the only rider that night.
William Dawes agreed to join Revere, taking the longer land route, while Revere ferried from Boston to Charlestown and borrowed a horse to ride toward Concord. Concord resident Samuel Prescott met them along the way, and guided them in the darkness, since he knew the area better. Dawes and Prescott aren't nearly as well-known as Revere, but served with equal courage. All three encountered a patrol of British regulars after warning Lexington, but before they reached Concord. Did they escape? Retreat? Were they captured?
Plan to watch the next series of four short videos to learn the full story!
I am your servant,
Vern Frykholm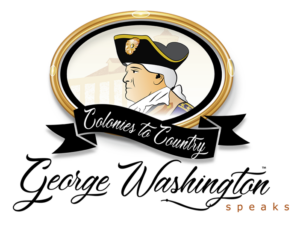 GEORGE WASHINGTON SPEAKS BLOG ARTICLES
OUR ARTICLES ARE CURRENT SO CHECK BACK AND KEEP UP ON OUR EVENTS AND NEWEST VIDEOS.
Have you ever wondered how George Washington came to be the trusted leader of the American Revolution and the new nation? What early experiences molded him and shaped his character?
The George Washington Speaks website includes nineteen videos on Washington's family background and early life. Born at Wakefield, his family's plantation on Pope's Creek near the Potomac, Washington was a farm boy from birth. Throughout his life, he lived in the plantation environment of raising and selling crops, with much of the labor by enslaved people.

His family moved to Ferry Farm, near Fredericksburg, Virginia, when George was about six. Most of his youth was spent there. Consider how these events might have influenced his character and development:
– A devastating fire at the Ferry Farm
– His father's death when George was eleven years old
– Greater responsibility as a youth, to help support his widowed mother
Because Ferry Farm barely produced enough to support the family, George sought other opportunities. At age sixteen, he trained in surveying using tools left by his father. He took some payment in land—mostly undeveloped property—and accumulated holdings in his own name.
His older brother Lawrence married into the prominent Fairfax family, and introduced George to the society of Virginia's upper gentry. Though he was painfully shy, these relationships helped him develop social skills that served him well throughout his life.



I hope you will view and share the videos on our website—especially with teachers and students of American History.


Contact me anytime at

[email protected]

.
I am your servant,
Vern Frykholm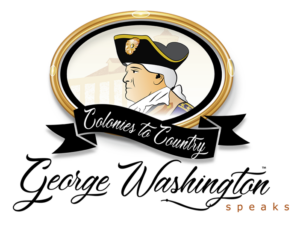 GEORGE WASHINGTON SPEAKS BLOG ARTICLES
OUR ARTICLES ARE CURRENT SO CHECK BACK AND KEEP UP ON OUR EVENTS AND NEWEST VIDEOS.
In early October I spent four days in Boston, exploring the seeds of the American Revolution, and the locations where those seeds sprouted.
I was fortunate to spend October 2 with John Adams—portrayed by Michael Lepage, who portrays a variety of 18th century figures as needed in various venues around New England. With both of us dressed in the garb of the 1700's, we toured Lexington. Lexington Green, the Buckman Tavern, the Hancock-Clarke house, and Munroe Tavern helped me envision the events of April 1775. We stopped for a photo in front of Buckman Tavern, where dozens of Minutemen waited for the British regulars after Paul Revere's warning of their arrival.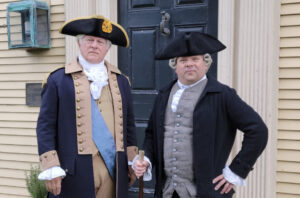 Of course, George Washington was not involved in those events. At that time, he was at Mount Vernon, carrying out his usual business there, hosting visitors, and making occasional visits to Alexandria. He left Mount Vernon in early May of 1775 to attend the Second Continental Congress, and by this time news of the battles at Lexington and Concord was spreading through the colonies.
However, in 1789 when President George Washington toured the New England states, he visited the battle site at Lexington Green, and dined at Munroe Tavern. The room he dined in is pictured here.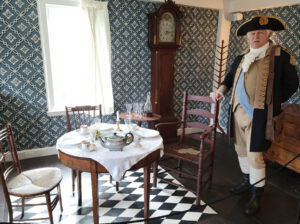 At Minuteman National Historic Park, we walked along part of the five-mile Battle Road Trail, while John Adams narrated more of the events that started the Revolutionary War, and answered my questions.
Another stop on October 2 took us to the Concord bridge, site of a second skirmish between British forces and local militia. As we approached the bridge, a couple and their baby daughter were having family photos taken. Presidents kissing babies is a political cliché, but these parents were eager to have their photos taken with the two former presidents—no kissing involved!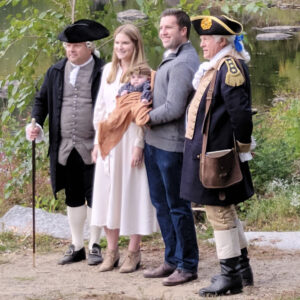 Our day ended with dinner at the 18th century Wayside Inn, a beautiful location filled with historic atmosphere.




Michael Lepage and his wife were delightful guides for the day, and made our visit to Lexington and Concord very memorable.



With gratitude,
Vern Frykholm