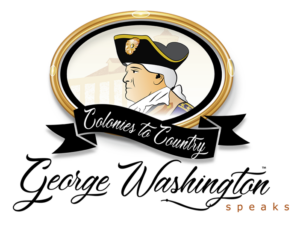 GEORGE WASHINGTON SPEAKS BLOG ARTICLES
OUR ARTICLES ARE CURRENT SO CHECK BACK AND KEEP UP ON OUR EVENTS AND NEWEST VIDEOS.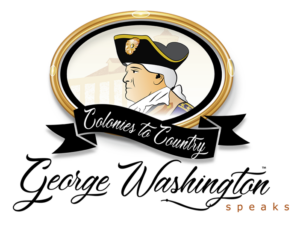 GEORGE WASHINGTON SPEAKS BLOG ARTICLES
OUR ARTICLES ARE CURRENT SO CHECK BACK AND KEEP UP ON OUR EVENTS AND NEWEST VIDEOS.
Last month I visited Fort Ticonderoga for their annual Seminar on the American Revolution. The visit took me far from my home in Washington State, to an area I've never seen before. The speakers included scholars, authors, graduate students, and historians. Each had a personal interest in a unique aspect of Revolutionary War history. But the fort itself was worth the visit.
A wartime fortress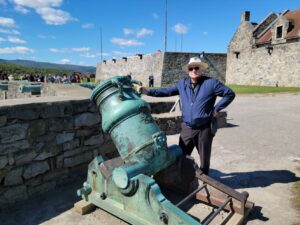 Built first by the French, it came under the control of the English by the end of the French and Indian War. In May of 1775, Ethan Allen and Benedict Arnold led the Green Mountain Boys in a surprise attack that allowed the Americans to capture the fort.
Located on high ground above the southern reaches of Lake Champlain, the fort commands a wide view of the waterway. Cannon from the fort were hauled to Boston in the winter of 1775/76 and set up on Dorchester Heights under George Washington's command, forcing the British to give up their stranglehold on Boston in March of 1776.
Meanwhile, American forces in northern New York continued to strengthen fortifications in the area of Fort Ticonderoga. But when a British force of 7,800 came south from Quebec in 1777 and hauled cannons to the top of nearby Mount Defia, the small American force could not defend the fort. They withdrew, leaving the fort in British hands again. By the fall of 1777, the British plan to control the Hudson Valley had failed with their defeat at Saratoga, and Fort Ticonderoga no longer had strategic value to them. The fort was abandoned before the end of 1777.
A restored ruin
After spending the weekend exploring the fort between seminar sessions, I was shocked to see an image of the fort from the mid-1800s, a total ruin. That image made the restored structures (an ongoing effort) all the more impressive.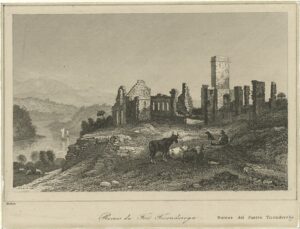 George Washington visited the fort in 1783, which he mentioned in a letter to Elias Boudinot in mid-July, as a means of passing the time while awaiting the final treaty ending the war. An impressive sign at the entry to the fort today mentions him as one of many notable military figures who passed through the fort.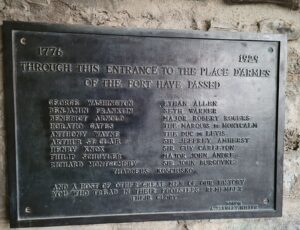 I am your servant,
Vern Frykholm
OUR ARTICLES ARE CURRENT SO CHECK BACK AND KEEP UP ON OUR EVENTS.
Welcome to George Washington Speaks' first blog post! I'm Vern Frykholm, and I've been portraying America's first president since 2012. My favorite venue is the classroom, engaging students to help them understand Colonial America, and why the colonists fought so hard for independence.

Their challenges weren't over when the war ended. Washington guided the development of the Constitution, bringing unity to thirteen diverse colonies. And because he recognized the fragility of the new government, he agreed to serve as President, with unanimous support.

How I became Washington

I took my family to Mount Vernon nearly thirty years ago, and encountered a portrayer of George Washington there. His twenty-minute presentation fascinated me, and I sent my family off to see the mansion house, while I listened to the next two presentations. To my surprise, there was very little repetition as the man lived out the role of Washington for his audience. Afterwards, I asked how he did it. Was there a script he memorized?

No, he assured me. But he read constantly to learn more about Washington's life and times. I stood in awe, knowing I would never be able to read and learn so much.

Then, in 2011, I toured Philadelphia, led by a scholar of Washington's life. Late in the week, we stopped at Valley Forge, where a George Washington portrayer spoke with our group and answered questions.

I asked myself, shouldn't the State of Washington have a George Washington? I read the first of many books, and shopped for colonial clothing. In February of 2012, I made my first public presentation at a tea for Washington's birthday.

Why I portray Washington

How did a farm boy of modest origins and few prospects, an awkward youth with little education, rise to the legendary status of our nation's heroic military leader and first president? In Washington's childhood loss of his father and subsequent poverty, I saw the challenges young boys and girls still face. In his young adulthood, he struggled to find his place in the social structure of 18th century America. And though he loved the life of a planter, he devoted himself to public service when he recognized a greater cause.

In short, Washington is an inspiration to me. I want to share that with others.

Learning all the time

Books teach a lot, but there is nothing quite like being on location, seeing where Washington was born, where he grew up, explored, farmed, and fought. This fall I'll travel to the Hudson River Valley, and visit Boston, the scene of Washington's first command as leader of the colonial militia. I'll hear a talk by Nathaniel Philbrick, author of four books about Washington. In Boston, John Adams (portrayed by Michael LePage) will show George Washington (yes,me) around Boston's historical sites.
Follow me on Facebook for updates about this exciting trip, building my understanding of George Washington.
As Washington often said,
I am your most obedient and humble servant,

Vern Frykholm
CONTACT
(360) 460-9302
Get our app:
text: GEORGESPEAKS  to: 64600
or scan our QR code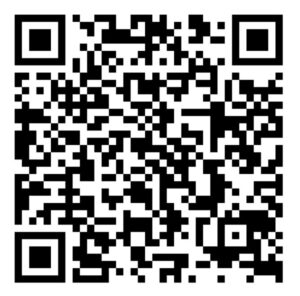 LOCATION
P.O. Box 104

Sequim, Washington 98382
United States
HOURS
M – F : 10 am–4 pm
Sat. & Sun. : Closed