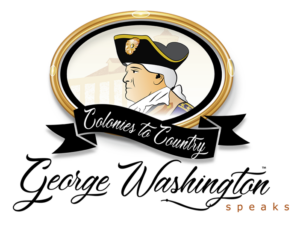 GEORGE WASHINGTON SPEAKS BLOG ARTICLES
OUR ARTICLES ARE CURRENT SO CHECK BACK AND KEEP UP ON OUR EVENTS AND NEWEST VIDEOS.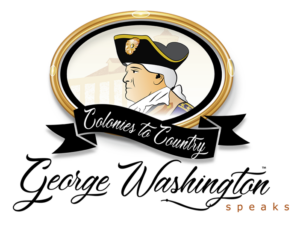 GEORGE WASHINGTON SPEAKS BLOG ARTICLES
OUR ARTICLES ARE CURRENT SO CHECK BACK AND KEEP UP ON OUR EVENTS AND NEWEST VIDEOS.
Have you ever wondered how George Washington came to be the trusted leader of the American Revolution and the new nation? What early experiences molded him and shaped his character?
The George Washington Speaks website includes nineteen videos on Washington's family background and early life. Born at Wakefield, his family's plantation on Pope's Creek near the Potomac, Washington was a farm boy from birth. Throughout his life, he lived in the plantation environment of raising and selling crops, with much of the labor by enslaved people.

His family moved to Ferry Farm, near Fredericksburg, Virginia, when George was about six. Most of his youth was spent there. Consider how these events might have influenced his character and development:
– A devastating fire at the Ferry Farm
– His father's death when George was eleven years old
– Greater responsibility as a youth, to help support his widowed mother
Because Ferry Farm barely produced enough to support the family, George sought other opportunities. At age sixteen, he trained in surveying using tools left by his father. He took some payment in land—mostly undeveloped property—and accumulated holdings in his own name.
His older brother Lawrence married into the prominent Fairfax family, and introduced George to the society of Virginia's upper gentry. Though he was painfully shy, these relationships helped him develop social skills that served him well throughout his life.



I hope you will view and share the videos on our website—especially with teachers and students of American History.


Contact me anytime at

[email protected]

.
I am your servant,
Vern Frykholm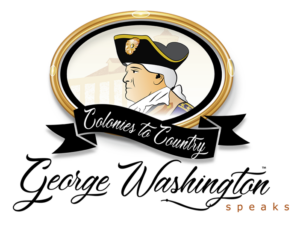 GEORGE WASHINGTON SPEAKS BLOG ARTICLES
OUR ARTICLES ARE CURRENT SO CHECK BACK AND KEEP UP ON OUR EVENTS AND NEWEST VIDEOS.
In early October I spent four days in Boston, exploring the seeds of the American Revolution, and the locations where those seeds sprouted.
I was fortunate to spend October 2 with John Adams—portrayed by Michael Lepage, who portrays a variety of 18th century figures as needed in various venues around New England. With both of us dressed in the garb of the 1700's, we toured Lexington. Lexington Green, the Buckman Tavern, the Hancock-Clarke house, and Munroe Tavern helped me envision the events of April 1775. We stopped for a photo in front of Buckman Tavern, where dozens of Minutemen waited for the British regulars after Paul Revere's warning of their arrival.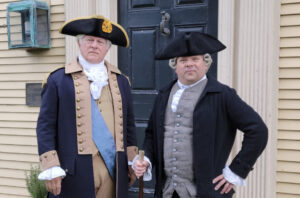 Of course, George Washington was not involved in those events. At that time, he was at Mount Vernon, carrying out his usual business there, hosting visitors, and making occasional visits to Alexandria. He left Mount Vernon in early May of 1775 to attend the Second Continental Congress, and by this time news of the battles at Lexington and Concord was spreading through the colonies.
However, in 1789 when President George Washington toured the New England states, he visited the battle site at Lexington Green, and dined at Munroe Tavern. The room he dined in is pictured here.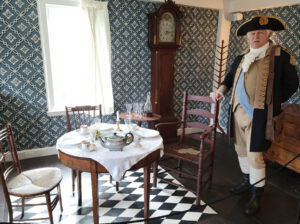 At Minuteman National Historic Park, we walked along part of the five-mile Battle Road Trail, while John Adams narrated more of the events that started the Revolutionary War, and answered my questions.
Another stop on October 2 took us to the Concord bridge, site of a second skirmish between British forces and local militia. As we approached the bridge, a couple and their baby daughter were having family photos taken. Presidents kissing babies is a political cliché, but these parents were eager to have their photos taken with the two former presidents—no kissing involved!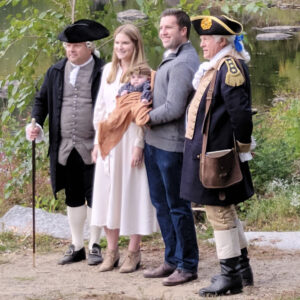 Our day ended with dinner at the 18th century Wayside Inn, a beautiful location filled with historic atmosphere.




Michael Lepage and his wife were delightful guides for the day, and made our visit to Lexington and Concord very memorable.



With gratitude,
Vern Frykholm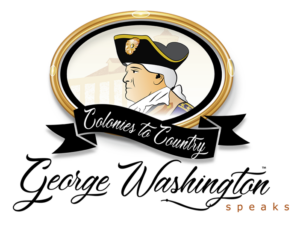 GEORGE WASHINGTON SPEAKS BLOG ARTICLES
OUR ARTICLES ARE CURRENT SO CHECK BACK AND KEEP UP ON OUR EVENTS AND NEWEST VIDEOS.
Last month I visited Fort Ticonderoga for their annual Seminar on the American Revolution. The visit took me far from my home in Washington State, to an area I've never seen before. The speakers included scholars, authors, graduate students, and historians. Each had a personal interest in a unique aspect of Revolutionary War history. But the fort itself was worth the visit.
A wartime fortress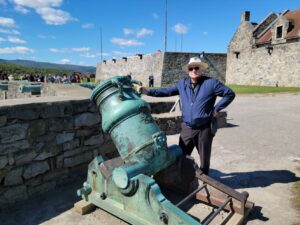 Built first by the French, it came under the control of the English by the end of the French and Indian War. In May of 1775, Ethan Allen and Benedict Arnold led the Green Mountain Boys in a surprise attack that allowed the Americans to capture the fort.
Located on high ground above the southern reaches of Lake Champlain, the fort commands a wide view of the waterway. Cannon from the fort were hauled to Boston in the winter of 1775/76 and set up on Dorchester Heights under George Washington's command, forcing the British to give up their stranglehold on Boston in March of 1776.
Meanwhile, American forces in northern New York continued to strengthen fortifications in the area of Fort Ticonderoga. But when a British force of 7,800 came south from Quebec in 1777 and hauled cannons to the top of nearby Mount Defia, the small American force could not defend the fort. They withdrew, leaving the fort in British hands again. By the fall of 1777, the British plan to control the Hudson Valley had failed with their defeat at Saratoga, and Fort Ticonderoga no longer had strategic value to them. The fort was abandoned before the end of 1777.
A restored ruin
After spending the weekend exploring the fort between seminar sessions, I was shocked to see an image of the fort from the mid-1800s, a total ruin. That image made the restored structures (an ongoing effort) all the more impressive.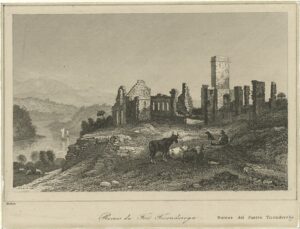 George Washington visited the fort in 1783, which he mentioned in a letter to Elias Boudinot in mid-July, as a means of passing the time while awaiting the final treaty ending the war. An impressive sign at the entry to the fort today mentions him as one of many notable military figures who passed through the fort.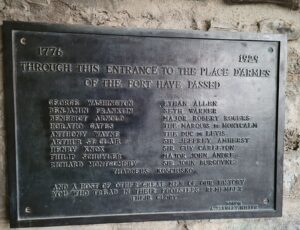 I am your servant,
Vern Frykholm